,∙•'ˆ`'-'´˜'•∙₊×
Shattering Obsidian
×₊∙•'˜´'-'`ˆ'•∙,

×₊∙•'˜´΅̨`ˆ'•∙,,∙•'ˆ`΅̨´˜'•∙₊××₊∙•'˜´΅̨`ˆ'•∙,,∙•'ˆ`΅̨´˜'•∙₊××₊∙•'˜´΅̨`ˆ'•∙,,∙•'ˆ`΅̨´˜'•∙₊×
With the letter now in the hands of the Sixth, nothing could stand in the way of vengeance. To the Sixth, this had become personal. Obsidian had sold munitions to Separatists. Separatists who had killed brothers. Friends. Bandmates. Hell had been unleashed, and four warbands mustered at full strength. The Vanguard gave the all clear to the Charr to breach and clear the Obsidian factory while they gave support.
The first the underground facility knew of an assault was a Charr tank suddenly rolling up up front of their reinforced complex doors. With an loud explosion, a HE round buckled the doors, as Charr soldiers were suddenly disgorged from the rear of the tank, taking up positions as they waited for the doors to crumble. Another HE round and suddenly the doors peeled back like a giant can opener had been taken to them, and suddenly Charr soldiers sprinted in silence down into the underground complex.
×₊∙•'˜´΅̨`ˆ'•∙,,∙•'ˆ`΅̨´˜'•∙₊××₊∙•'˜´΅̨`ˆ'•∙,,∙•'ˆ`΅̨´˜'•∙₊××₊∙•'˜´΅̨`ˆ'•∙,,∙•'ˆ`΅̨´˜'•∙₊×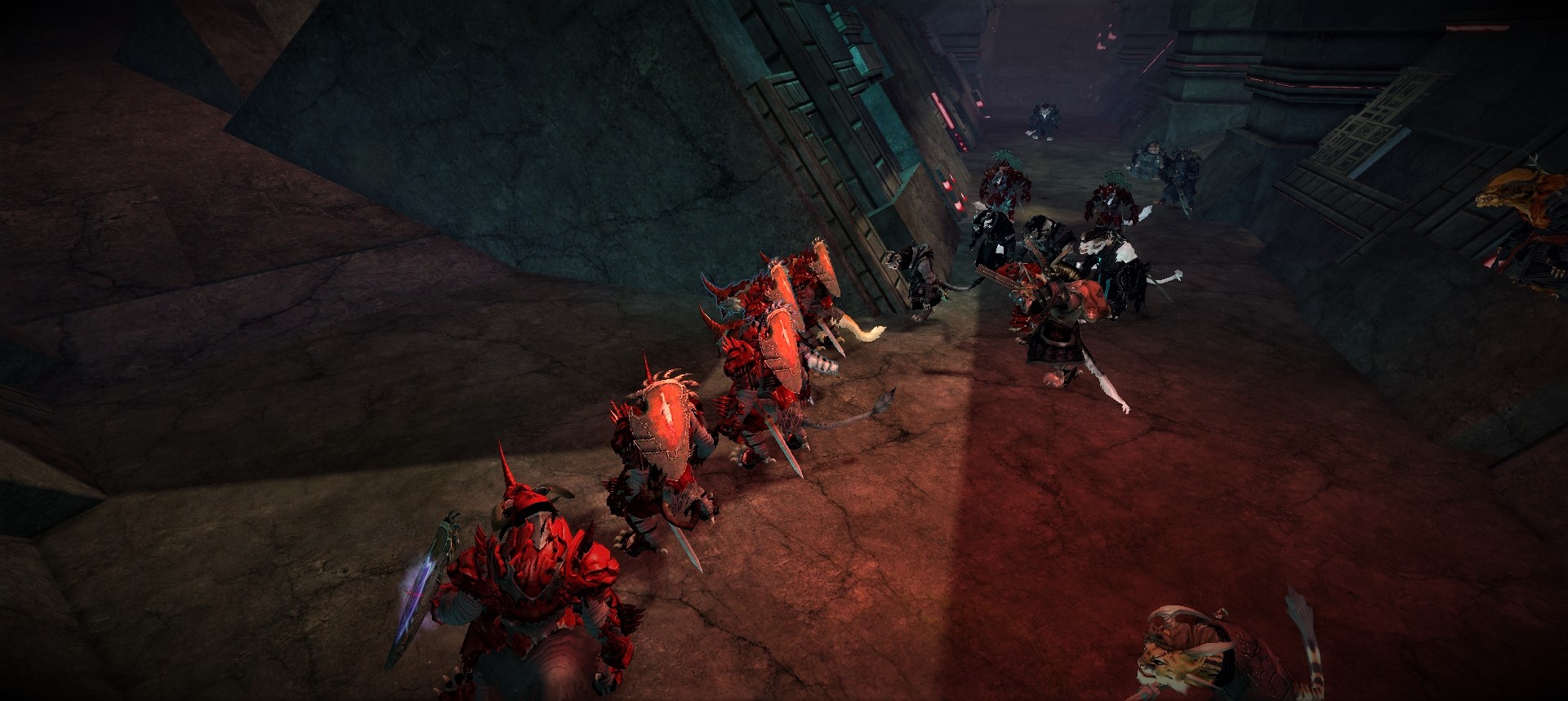 ×₊∙•'˜´΅̨`ˆ'•∙,,∙•'ˆ`΅̨´˜'•∙₊××₊∙•'˜´΅̨`ˆ'•∙,,∙•'ˆ`΅̨´˜'•∙₊××₊∙•'˜´΅̨`ˆ'•∙,,∙•'ˆ`΅̨´˜'•∙₊×
The Charr were initially met with silence. Running into a main room, flanked by passages either side. The suddenly the sound of rifles fired as security personnel engaged the Charr. The fight begun. The Charr started clearing the complex, room to room, using vicious and lightning tactics to overpower the Humans before they even knew what was going on. Twice the resistance threw up make shift barricades, using weapons that were meant for actual soldiers to try and cut down the Charr.
It was a slaughter. While orders had been given to spare those who were unarmed, mere workers, the same mercy was not shown to those holding a weapon. Battle hardened in the crucible of war, the mere contractors were outclassed, and soon they were sprinting from the Charr as their wounded lay screaming, quickly dispatched while Charr boots stepped over the dead, crashing on the hard stone floor as they jogged down the corridors.
×₊∙•'˜´΅̨`ˆ'•∙,,∙•'ˆ`΅̨´˜'•∙₊××₊∙•'˜´΅̨`ˆ'•∙,,∙•'ˆ`΅̨´˜'•∙₊××₊∙•'˜´΅̨`ˆ'•∙,,∙•'ˆ`΅̨´˜'•∙₊×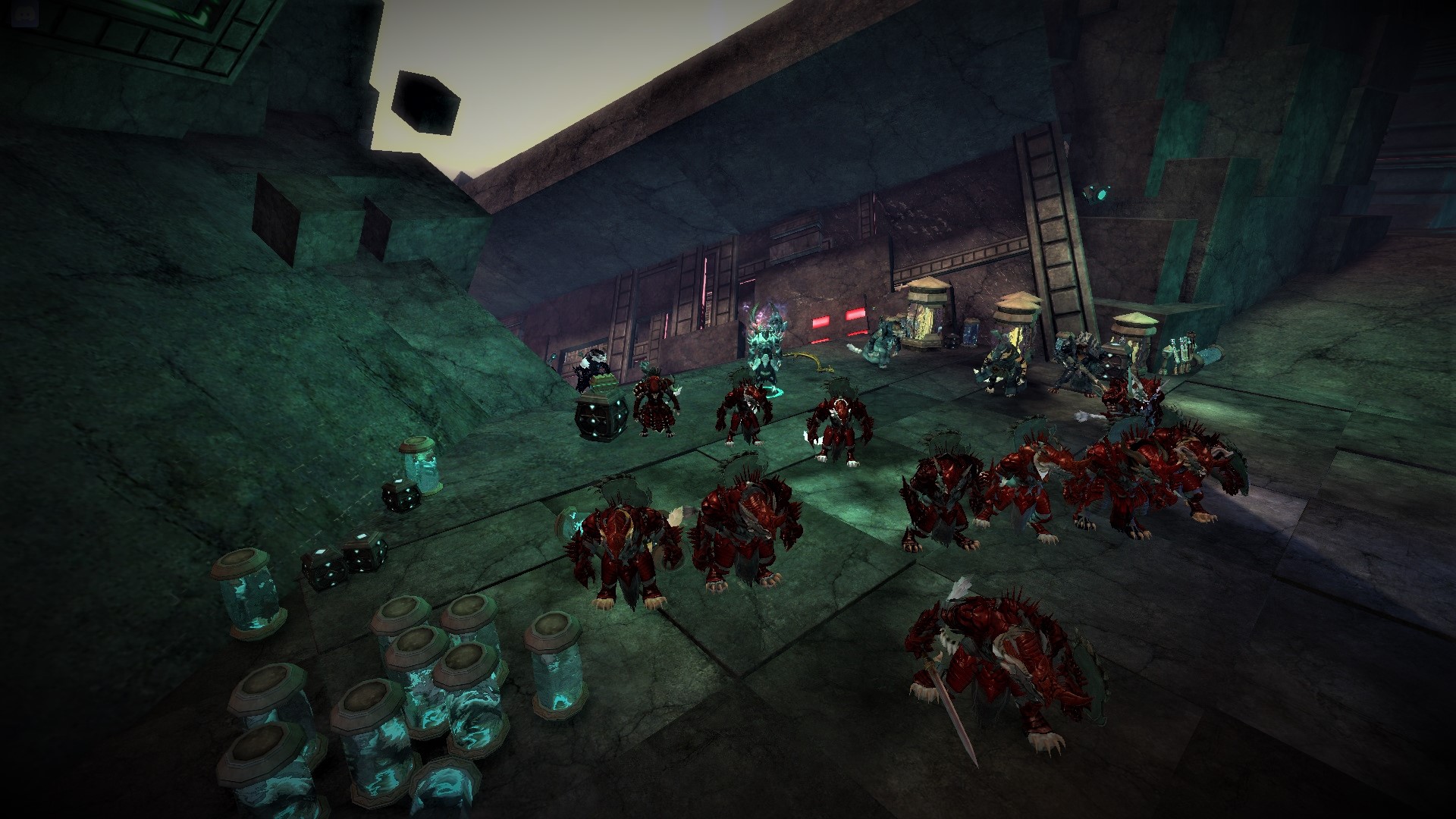 ×₊∙•'˜´΅̨`ˆ'•∙,,∙•'ˆ`΅̨´˜'•∙₊××₊∙•'˜´΅̨`ˆ'•∙,,∙•'ˆ`΅̨´˜'•∙₊××₊∙•'˜´΅̨`ˆ'•∙,,∙•'ˆ`΅̨´˜'•∙₊×
The last resistance was met in a storage room, stacked high with crates. Charr soldiers immediately crashed into the enemy line, momentarily slowed by boxes, chairs, anything that could be thrown into the way of the Charr onslaught. Fortune seemed to blink for a moment, as several Charr soldiers suddenly fell to the Human's response, but the Charr's resolve was only hardened as they smashed through the Human lines and tore through them with roars of triumph.
Finally reaching the offices, the Charr burst into the final room, holding blades out at the foreman as the factories control was snatched from Obsidian. The foreman was quickly arrested, and the offices ransacked for evidence. The Charr finally withdrew, but one thing was evident as intel was collected. This was one factory of many, and there was still no sign of the family that ran it. The Vanguard were briefed and what they had found and the prisoners taken, before the Charr withdrew to draw up their next plan of attack on Obsidian and it's ruling family, the Grimaldi.
×₊∙•'˜´΅̨`ˆ'•∙,,∙•'ˆ`΅̨´˜'•∙₊××₊∙•'˜´΅̨`ˆ'•∙,,∙•'ˆ`΅̨´˜'•∙₊××₊∙•'˜´΅̨`ˆ'•∙,,∙•'ˆ`΅̨´˜'•∙₊×