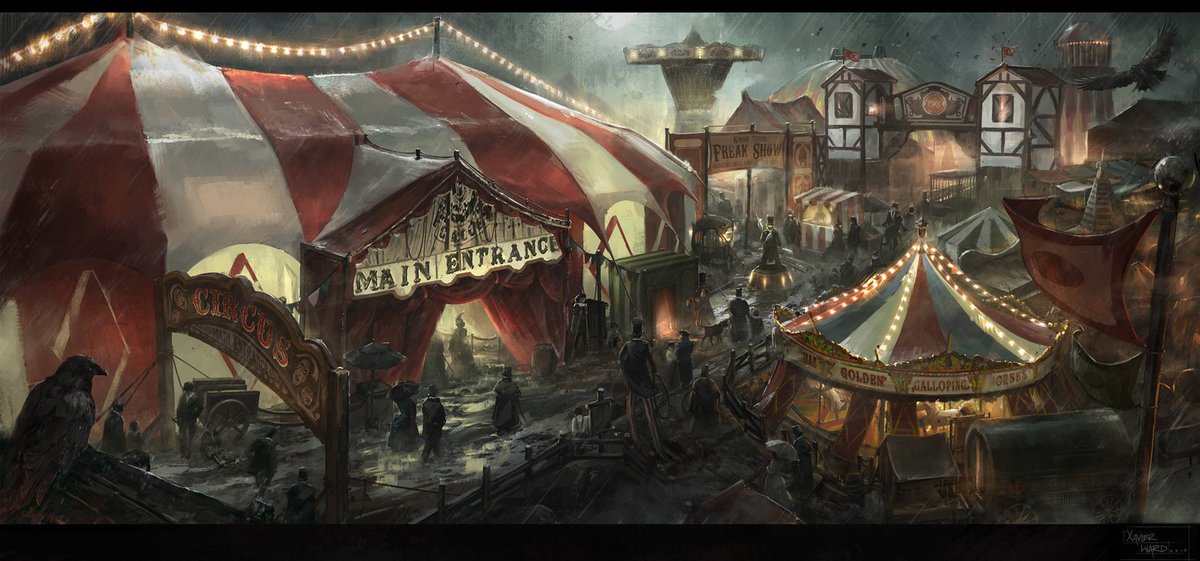 Their arrival is heralded by fools with painted faces, contortionists, and carnival barkers. They come a day or two ahead, hanging painted signs and faded banners from lamp posts, and tavern walls, and public squares. The advertisements heed the promise of sideshow freaks, acrobats, magic, and macabre delights. Mister Mesmero's Midnight Menagerie, they say, promising a carnival of dark beauty, sinister mystery, and a glimpse into the unknown.

The cavalcade comes next, always by night, a black parade of wagons painted in wild nightscapes of swirling moonlight and glittering stars, flying flags of deep purple, shimmering silver, and vibrant gold. A myriad of entertainers adorn the tops, and backs, and sides of the traveling show carts, dazzling those fortunate onlookers who come to see the grand entrance into whatever sleepy berg or backwater village the Menagerie is destined for that day.

By morning, muddy fairgrounds or barren fields are alive with swirling black tents, makeshift stages, and the converted wagons of vendors peddling miracle tonics, oddities, and exotic delicacies. Show stages and big top tents, packed with curious onlookers and voracious connoisseurs of the strange and usual, house all manner of spectacle, a veritable feast for the senses. And at the center of it all is Mister Mesmero, the mysterious Ringleader who starts the show off each night by rallying audiences and exciting fairgoers with a carnival barker's skill and a mesmerizing charisma.

Just a few coppers gains you access to the strangest show in town, but do keep your loved ones close and your valuables secure. It's rumored that those fairgrounds are a haven for pickpockets, con artists, and charlatans looking to leverage the chaotic wonderment of their surroundings to filch wide-eyed fairgoers of their hard-earned coin. And those rumors of the occasional local bumpkin going missing? Well that's just coincidence and hearsay.

In the morning, when the last of the locals are sleeping off their drink and children are retelling the memory of their favorite carnival performer, all that's left in the wake of the Menagerie are the vacant fields of the fairgrounds, littered with remnants of the previous night's revelry, a few misplaced valuables, and the deep tracks of wagon wheels leading out the way they'd come.
---
Welcome writers, roleplayers, and storytellers!

The Midnight Menagerie is a carnival/performance themed guild with a dark twist and a macabre undertone. We are a small group of heavy roleplayers and storytellers looking to create an immersive, sandbox-type environment with dynamic stories in open world locales. We intend for the guild to be tight-knit, small, and full of active characters who fit in with the theme, motivation, and spirit of the guild.

While we intend to tell our own story arcs, we're also looking to get involved when the opportunity arises with the greater RP community for public and/or private events that require some form of entertainment.

While part of the guild storyline is performance-centric, the denizens of the menagerie are desperate, immoral sorts who are beholden to the will of their Ringmaster, the nefarious Mr. Mesmero (an NPC). While the menagerie serves as a legitimate front, what really goes on in the shadows of the bigtop are darker, more sinister, and propagated by the performers and staff at the behest of their mysterious leader. Therefore, anyone looking to travel with Mr. Mesmero and his band of sideshow freaks and circus acts must be accepting and willing to participate in those additional duties.

A few important things to consider before reviewing our recruitment & application process:

We are an age 18+ guild.

You should be comfortable with mature themes, including bad language, violence, sexual themes, and the like.

We are accepting of any race or class, but we are going to be comprehensive in our effort to ensure that character concepts fit in well the theme of our guild. This includes character motivation for wanting to join a nefarious group of performers/criminals and their ability to be subtle, confidential, and loyal to the troupe.

We don't have an official activity level requirement, but many of us are RPing in-game, or in discord, or writing on the forums several nights a week. We are an active bunch, and we're looking for people who are going to be able to commit some time and energy to their character and the story.

To Apply, follow this link to our Application Process

For additional info:
Check out our Website: The Midnight Menagerie
For questions PM here on Enjin, on Discord (the_weasel_29#2848), or In-game (Rhino.4765)